MODULE 12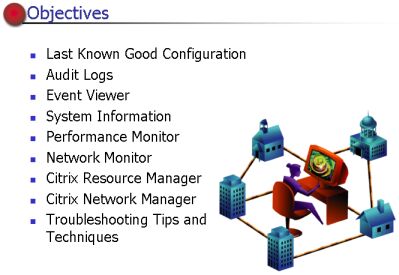 LAST KNOW GOOD CONFIGURATION
W2k server stores two copies of startup config in its registry : Current Startup Configuration and Last Know Good Configuration.
The first consists of the last know good config. and any changes made sice the last successfull logon.
The second consists of the registry settings used by the server during the last successfull logon.
Show the image to understand the logon process :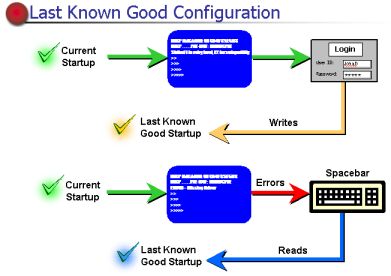 If an error occour during system startup don't make logon ,this prevent the overwrite of the Last Know Good Config.
AUDIT LOGS
Audit logging is disabled by default ,are saved to Application or System Log and can be viewed with Even Viewer.
Resources can be audited:
account logon events

account management
directory service access
logon events
object access
policy changes
privilege use
process tracking
system events ,this can be enabled by a specific host (pc,uo,ecc..)
active directory objects
files and folders,printers,registry keys
If resources have been enabled for auditing but don't appear in the event viewer ,check that the security settogns have been enabled.
EVENT VIEWER
The Event Viewer contains the following audit logs :
system log ,events affect the system ,all have the access
security log ,events enabled for auditing by an administrator ,only admin have the access
application log ,events that results from applications ,all have the access
DNS server ,log contains dns events ,alll have access
Metaframe save the logs and can be viewed with Event Viewer too.
Can be set manually to clear logs at regular intervals.
SYSTEM INFORMATION
Displays config. info about software and hardware on win200 server but is not capable of make any tests.
In addition ,info about hardware resources ,components ,software environment and internet explorer can be found using Computer Management console.
PERFORMANCE MONITOR
Graphical tool for monitoring XP server's performance ,because XP has an enormous effect on the system performance as measured by user response time.
Collects and allows an administrator to examine data about system activity.
Monitor the following areas :
processors
memory
physical disks/logical disks
server
If one of these resources exceeds the supply a system problems occour.
processor

processor utilization ,over 90%on a regular basis increase the number or the speed of processors in the xp server.
interrupts ,some device adapter can cause an excessive number of interrupts ,degrades the performance because most of the processor time is spent to handling interrupts.
context switches ,typical value is 500 per second or fewer ,screen saver use many processor resources.

memory

available bytes ,displays the size of the virtual memory available for applications.
page/sec ,this counter identifies when excessive memory pressure or paging is occuring.

physical disks and logical disks ,two ares should be monitored on physical disks and logical disks.

disk time
current disk queue lenght

server

bytes total/sec ,this the total number of bytes per second passing to and fromthe server.
Monitoring many servers can cause high network utilization.
NETWORK MONITOR
w2k server component ,can capture and dysplys frame to detect and troubleshooting problems on networks.
Not installed by default ,the metaframe packets are recognized by the port number and could be a filter to this port.
CITRIX RESOURCE MANAGER
Component of metaframe xpe.
The administrators can :
monitor one or more servers in the farm
set alerts (e-amil,sms,snmp) for one or more servers when an event or process is outside the limits set for the metric.
store and retrieve data about application usage and user activity
create reports and graphs from the data collected by the citrix resource manager
Can be accessed by the CMC.
CITRIX NETWORK MANAGER
provides system management capabilities to xp servers via an snmp management console by querying the metaframe agents to obtain status info about the xp servers.
Works with HP openview or Tivoli Netview.
Network manager can be :
explore and gather info from xp servers on a network
update the gathred info in an snmpmap
log metaframe xp status traps to an snmp browser
display specific status trap messages in an alarm window and log the same to th event browser
represent subsytems as icons in a submap
by default ,access the CMC ,license info ,performance counters and info about processes ,servers and sessions by clicking on an icon
discover if a node is a xp node
update the status of a xp node
remotely shut down a xp node
remotely boot xp node
automatically change a node symbol to represent a xp node.
start and stop the display of trap messages from all xp nodes.
Requires snmp agent enable in the properties of xp server farm.